Death Star II Pre-Release Tournament Event
Death Star II... You've waited anxiously for it... Salivating and scratching for every little detail about it.
Wouldn't it be nice if you could catch a glimpse of these cool new cards before it came out? Better yet, wouldn't it be cool if you could play with these new cards before they came out!?! Now's your chance. Coming June 24th to Neutral Ground Gaming Center in Mountain View, CA, the Star Wars CCG universe will erupt with the flames of battle. Prepare to take your Star Wars CCG gaming to an all new level of excitement.
TIE Fighter and Interceptor squadrons will chase X-wings, A-wings and B-wings across the treacherous superstructure of the the Empire's newest instrument of terror, the Second Death Star. Limbering capital ships with slug it out high above the the forest moon of Endor. All the while, the rebels fight tirelessly against the Empire's best troops to destroy the shield bunker.
The Admirals have given their orders... Who will survive to see another day?
Be one of the elite...
Only six locations worldwide will be holding this special per-release event.
Neutral Ground in Mountain View California;
Sentry Box in Calgary, Alberta, Canada;
Collectormania in Denver, Colorado
Browser Games in Houston, Texas;
Cyberia in Normal, Illinois;
Gamer's Guild in Clifton Park, New York and
There will also be a special pre-release event at DragonCon.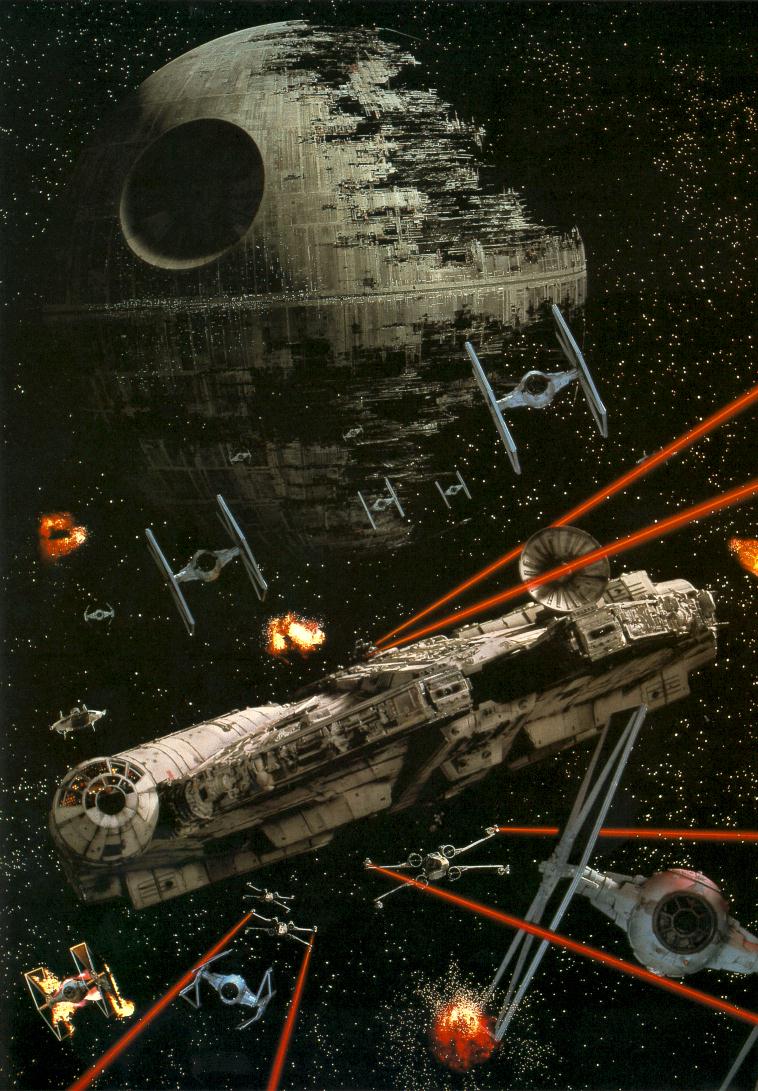 These locations were selected for their ability to hold large scale tournament eventsw and their history with dealing with Decipher and Decipher representitives and volunteers.
Of these six select locations, only 100 players will be able to participate in the event. This event is on a first come first served basis, so come early if you want to be one of the few elite who have seen and played with the new cards.
What you get...
The entrance fee to one of these event (that is if you are one of the 100 lucky players to play in this event) is $25. This price pays for the material that you will play with.
As this is a sealed deck event you will receive one Death Star II Pre-Constructed Starter Deck, two Death Star II Booster Packs and one Endor Booster Pack. Your affiliation will be determined when you sit down to play.
For prizes there will be a set of Death Star II rare uncut sheets for the First place winner. There will also be a set of Death Star II Pre-Constructed Deck uncut sheets to be randomly given to one of the players that make it through the entire event. All this on top of lots of other goodies (you'll just have to wait to see ;)).
Now, for the rules...
These rules of entry are for the Pre-release event in Mountain View, California. I encourage you to contact the Squadron Members in your area for details of the event closest to you.
You can call Neutral Ground at any time during normal business hours to pre-register. Call (650) 947-0398 to pre-register. You must pre-register with Neutral Ground! Emailling me or another Squadron Member won't do it. We are running the event, but, can not handle registration. A $5 administration fee will be applied to all refunds.
The tournament will begin promptly at 12:00 noon on June 24th. You will be required to pay the $25 to the front counter, where you will be asked to sign a list. Once you've paid, you'll be asked to fill out a command card. Fill this command card as completely and as legibly as possible. Be sure to include your birthdate and an email address (if any). If you have pre-registered, you will be given until 12:30 to claim your spot. If you do not arrive before 12:30, your spot will be awarded to another player and your money, if any, will be refunded.
At noon, you will be paired with an opponent and assigned an affiliation. Only then will you receive your cards. Do not open the packaging of these cards until you are instructed to do so. Once you can open the package, make sure you pass the cards of your opponent's affiliation to him.
The tournament will follow a 4 game standard sealed deck format followed by a final 2-game confrontation.
Visitors not participating in the event will be allowed to view the cards and uncut sheets. However, they will not be allowed to interfere with the games in progress.
Meet the crew!
The Mountain View Death Star Pre-Release event will be directed by:
Josh Certo, Red 93: A Squadron Member from Modesto and local Star Wars CCG expert.
Mike Hardy, The Flight Leader, Red 32: Hey! That's me... Wow, Decipher must love me, huh?
In Summary...
Star Wars CCG Death Star II Pre-Release Tournament Event
Saturday, June 24th 12:00noon
Neutral Ground Gaming Center
Mountain View, CA
Entrance fee: $25 (100 player limit). Pre-register a spot for you by calling Neutral Ground at (650) 947-0398!!!
Info: Receive one Death Star II Pre-Constructed Starter Deck, two Death Star II Booster Packs and one Endor Booster.
Prizes: One Death Star II rare uncut sheet, one Death Star II Pre-Constructed Starter uncut sheet, plus tons of other great stuff!
For directions and informaiton call (650) 947-0398 or (916) 392-3379 or email me.