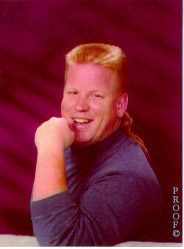 Who Am I?
Just to let you know just who exactly I am. So, you don't think I'm some lunatic or something.
Awards I've Received
OK, this page is going to be blank for a little while... But, it doesn't hurt to hope.
Email me!
Let me know what you think! Drop me a line and give me the business.

Games
From Star Wars to Pokemon to
Chess. This site covers many
interests. Come and check it out!
Football
The true American pass time! This site is dedicated to the awesome sport of Football.
U.S. Army
I'm in the US Army Reserves. I also spent 4 years in the Active Army. This page is dedicated to that.
Articles & Commentary
Some articles and comments about things that happen to me and the world around us. My take on the things that shape our lives.
Advice
Everyone could use a little help from an objective point-of-view. I'm not the wisest, or the smartest dude in the whole world, but, maybe I could help anyway.
KCCat's Lair
A page belonging to and maintained by the love of my life Karry L. Cannon! She loves cats, musicals, and me (imagine that!).
Hi!
Welcome to my personal website.
This is simply the cover letter to an intricate array of web pages that I maintain. I guess you could say, I am a webmaster... But, I'm not really that good.
You can come to this page and I'll tell you what I've done to each other the other pages. Then you can visit each based on your point of interest.

The interests on this page are as varied as I am...
The bulk of the content is basically Star Wars CCG. That will change as I do more work in other areas.

A quick look at this page and you'll see the Directory to you left.
The Directory is the main navigation of my website. You may click on each title and you will go to that page which interests you. Some pages will by covers to even more pages beyond that... Other may simply be one page articles or stories. No matter where you go, however, I will try to make it so you can always get back here to start over.
Many of these titles contain pages that are still under construction... Some still don't even exist yet. Please be patient, I'm working at really making this website great!
Below is all of the updates that have taken place all around the site! This is where you can get information to find out if a site has been updated or not... And, what exactly has been done to it. It will also have the date the update was done.

This is a free, non-commercial, family oriented site. I monitor and edit this site constantly. There is no pornography or other objectionable material.

So, again, welcome and make yourself at home sweet home!


Made updates to my Star Wars CCG website.

---
Monday, Feb 5th, 2000...
A new look for a new millennium!
I have completely updated the entire site! Feel free to take a look around the place. I'm using Microsoft FrontPage to do my website work now. Let's see how it goes!

---