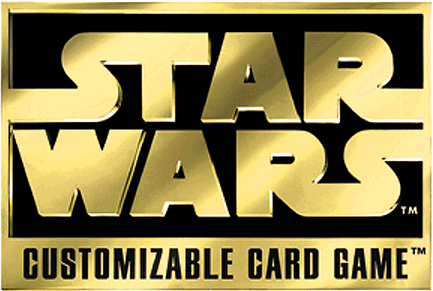 You are among


Jedi to visit this site... WELCOME!
The HOT List...
>>Tournaments for Jan 2001
>>Decipher Day in Roseville, CA
>>Squadron Member Bounty
>>The Jedi Master Program
>>Don't be a nobody, register!!
>>ICQ Me, Baby!!!
>>Squadron Member's Webring

Decipher, Inc...
The website from the guys who made this great game!
Young Jedi CCG...
Check out this exciting game based on the much anticipated movie Star Wars Episode 1 The Pantom Menace!
Jedi Knights TCG...
A brand new Star Wars based card game that sports the best of Young Jedi and Classic Star Wars CCG!
Comments...
Give me your ideas, your opinions, your crap... Heck, just email me!
ICQ Me!
Events...
A complete listing of what I'm doing, where and when I'm doing it.
Articles...
Strategy, commentary, and rulings all on one page!!
Here's the spot if you wanna get all of the most recent rulings, gleaned off of the listserves and the CRD!
You can also tune into the State Champion's exploits in the "World According To Claydo" articles.
A brand new article series from Decispher's Star Wars CCG Discussion Bullitin Boards, Ivan 'ZippyDaJedi' Kanner. "Thinking Outside the Box with ZippyDaJedi"
Deck Designs...
Want to see some cool Dark and Light Side decks. Look no further...
Card Reviews...
So many cards to choose from. Don't you wish someone would tell you how some of these work?
Player Database...
Looking for a player in another town? Want to play someone from another community. Well, look here to find out who playing where!
Also, wanna know where the Tournament Directors are?
Tournament Director Locator
The Galactic Archives...
The monthly email newsletter is here for you to read if you aren't on the Alderaan Listserve. Juicy news and updates for the Alderaan region right here!!
Download Zone...
Access a whole bunch of cool stuff to help your game and organize your card pile! Coming Soon!
Cool Links...
Here are links that I frequent a lot! They have a lot of good Star Wars CCG content if you're just dying for more.
Contests...
Some fun games for you all to do while you sitting around waiting to play in your tournament. Or something cool to do while you're at the tournament.
Awards...
Here are some of the awards this website has won!
Home....
This takes you to my main home page. Come here to see other things that I really love!
ThisDecipher Squadron Members Webring site owned by Mike Hardy, Red 32.
[ Previous 5 Sites | Previous ]
[ Next | Next 5 Sites ]
[ Random Site | List Sites ]
Join the SM Webring
| | |
| --- | --- |
| | Check out the ultimate Star Wars CCG website reference interface... Final Conflict. |
| | Check out the repository of all the Star Wars CCG websites in existance... The Asylum. |
Do you Like Star Wars!?! Even better, do you like Star Wars CCG? Then this is the place for you!!! And, what a better place to get your Star Wars CCG info than from one of the oldest and, pardon my self-proping, best Squadron Member's around.
Thanks for stopping by and taking a look around. I hope you like the place!
Inside you'll find plenty off good articles, deck designs and card reviews... Written by people just like YOU!!!

Please, come in, make yourself at home and have a great time!!!

MAY THE FORCE BE WITH YOU!!!

Get in the know! Join the Alderaan Players Regional Email List
AlderaanHQ@egroups.com.


TOURNAMENTS THIS WEEKEND...

Saturday, January 6th, 2001 1:00pm
Sonora
Location: The Broadsword in Sonora, CA. Call (209) 694-0195 or (209) 532-3212 for directions.
Fee: Call for details.
Prizes: Call for details.
Director: Josh Certo

The Hall of Fame...
Clayton Atkin,
the 2000 California State Champion!!

---
Kevin Shannon,
the 2000 ComicCon Open Champion!!
---
Paul Todd Feldman,
the 2000 Alderaan Region Champion!!
---
What's New:

Happy New Year!
This year's gonna be even greater than last year! There's a ton of stuff on the horizon with Star Wars CCG here in Northern Alderaan. Don't miss out!
To start off. We begin with the Jan 10th release of Reflections II, Expanding the Universe. We all know what cards are going to be released with this new set. A heck of a lot of new strategies I tell ya'! That's less than a week away.
Also, starting this year, we will begin a new Tournament Series, just for us NoCal folks. If you join the new AlderaanHQ email list (see above), you'll get a chance to vote on what it is! Check it out... If you have any questions, email me.
Also, don't forget to take part in Northern Alderaan's Jedi Master Program! This is a great chance for you to teach the game and win great prizes! Register now and become a Jedi Master!
Lastly, the Squadron Member Bounty is still going on! So far, Anthony Ricioli owns a Kill Stripe for his victory against the World Finalist, Kevin Shannon. Learn more about this cool way of getting Death Star 2 packs by checking out my contest page!
---
Friday, December 22nd, 2000...
First off, I want to wish each and eavy one of you a happy and safe holiday season for you and those that you love! Please have fun and above all, please be safe! DON'T DRINK AND DRIVE!!!
For a special holiday treat, I have a spoiler of one of the new literature cards found in the Reflections II set. Here it is, straight from Decipher's Radio Free Decipher program :

*****Spoiler (to see spoiler highlight the blank portion below)*****

Grand Admiral Thrawn
Dark Side Character Imperial Destiny: 1
Power: 2 Ability: 4 Pilot Warrior
Deploy: 4 Forfiet: 7
Game Text: Adds 3 to power of any starship he pilots. When piloting a star destroyer in battle may add 1 battle destiny. While no other Admiral and no Star Cruiser on table, any Admirals Orders just placed in your Used Pile may be taken into hand.

*****Spoiler*****

Lots of changes in the tournament evironment this coming year as well!
Coming in the year 2001, tournament directors will now be allowed to play in their own tournaments!
Also, there will be new ranking formats added in addition to the traditional rankings we're all used to:
1) Year-to-Date rantings. Each year, you will start fresh with a new score board and a chance to be named the year's ratings champion!
2) Closed tournament environments ratings. Ever wanted to play in a BOE tournament, but didn't because you were afraid your rankings would get hurt? Fear no more! Now's there's a seperate ranking system that will set BOE tournament players apart from the pack!
3) Sprints. Have you ever been in the zone? A set amount of time where you were simply unstoppable? Want to get recognized for that feat... Get your five minutes of fame? Next year, in addition to the Annual ratings system, there will be 4 Month Sprints where the highest ranking players over those 4 month periods will be posted on the Decipher website for posterity!
2001 is going to be a great year!
If you're a beginner, or you know someone who might like to learn how to play, here's you big chance to get involved! Now you can take part in Northern Alderaan's Jedi Master Program! This is a great chance for you to teach the game and win great prizes to boot!
Register now and become a Jedi Master!
---

Thusday, December 21st, 2000...
Wouldn't it be cool to learn the game from someone whose already been playing awhile. Kind of like having a mentor you can hang with while you're still learning the game.
Well, if you're a beginner, or you know someone who might like to learn how to play, here's you big chance to get involved! Now you can take part in Northern Alderaan's Jedi Master Program! This is a great chance for you to teach the game and win great prizes to boot!
Register now and become a Jedi Master!
in other news... Reflections II is scheduled for a January 10th release! That's just a couple of weeks away! Mark your calendars.
---
Wednesday, December 20th, 2000...
Hey! Guess who's back? That's right, here I am again getting some good old fashioned updates to this website for you to see.
It looks like Reflections II is rapidly approaching over the horizon. It's slated for a January release. If you live here in the Northern California area, there'll be a box opening party hosted by Todd Feldman at Krier's Cards & Comics. Keep you eyes peeled here for more information on that.
Decipher's Bruce Umene is here with us spending the holidays. He will be at each of the tournaments that are posted above! He'll be bringing with him lots of goodies for anyone lucky enough to be at any of these tournaments.
For the updates, I completelly updated the Player Database. It's beginning to fill out quite nicely! I have also updated the Events page as well.
Tomorrow, I will unviel a special new contest for the players around here in Northern California. Stay tuned for that. I will also have some card reviews started showing off the new Reflections II cards that we'll be playing with next month!
Talk with you soon!